Company History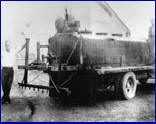 The Pollard experience extends back to the 1920's when BJ Pollard first applied liquid calcium chloride on gravel roads in suburban Detroit, Michigan. Brother Joseph had worked with BJ in Detroit and suggested to brother Raymond in 1937 that they try the same in Canada. Hence the Pollard Brothers partnership began. The first load of calcium chloride was spread in Colchester South Township in that same year.
Throughout the years, Pollard Brothers were entrepreneurs of other business activities. From building ammunition boxes to equipment manufacturing to crop spraying in the fifties and sixties, Pollard Brothers was always ready to entertain new opportunities.
The death of co-founder Joseph in 1967 left a huge void in the liquid calcium industry. Fortunately brother Raymond was quick to maintain strength in continuity with the addition of sons Larry and Brian into the Pollard Bros Limited operation.
Equipment leasing was added in the seventies to the Pollard experience when fleet tractors, dump trailers and tankers were maintained and leased to Allied Chemical (predecessor to General Chemical Canada Ltd.)
1979 saw the incorporation of Pollard Bros (Calcium) Ltd. and Pollard Bros (Sunflower) Ltd. with an appropriate division of activities. The corresponding retirement of Raymond Pollard left Lawrence Pollard as president and CEO of Pollard Bros (Calcium) Ltd. and Brian Pollard as president and CEO of Pollard Bros (Sunflower) Ltd.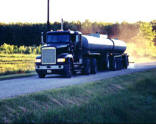 The entrepreneurial spirit of the Pollards continued under Lawrence Pollard. The 1980's and 1990's saw Pollard return to the US where it had its first experiences in liquid calcium chloride. The expansion of trucking services (through its affiliate Pollard Transport) included the distribution of highway salt to Ontario highway storage depots on behalf of major salt producers. This further development complimented Pollard's high profile serving the municipal road maintenance industry. Pollard has taken special interest in providing liquids of strategically positioned distribution terminals to better serve the same industry. With the relatively recent introduction of pre-wetting and de-icing products Pollard has been a pioneer in product development and application techniques in Ontario.
The demise of Pollard's sole supplier, General Chemical Canada Ltd, in 2005 seemed to present a dark shadow on Pollard's future; but with trials came perseverance, dedication, creativity, and entrepreneurial investment.
Under the leadership of 3rd generation Kevin Pollard, the sister companies, "Trillium Distribution Group" developed its own product supply of calcium rich brine and calcium chloride solution. Trillium now is the only supplier of 35% equivalent calcium chloride solution made in Ontario.
Since 2005 Pollard has been the primary Ontario distributor of liquids produced or supplied by its sister company, Trillium Distribution. Trillium Distribution produces the only 35% calcium chloride equivalent liquid ( 'DM 35 ') made in Ontario.
The addition of DM 35, Dustmaster20, Sodium Chloride Solutions, Mastermelt and Agrimelt Blends into product lines have offered patrons more choices for selecting the best dust control or ice control products for their particular needs and environment.
The corporate name change to Pollard Highway Products Ltd. recognizes its focus and identity as a leader in the municipal roads industry. To protect its customers and provide adequate supplies of quality products Pollard has partnered with many reputable companies and distributors.
From its initial involvement in dust suppression in the thirties to road stabilization, dust control, de-icing, freeze-proofing, pre-wetting, trucking and product distribution networks, the Pollard tradition and entrepreneurial spirit continues.