Liquid Anti-Icing/PreWetting For Paved Roads
Cold Temperature Formula DM Ultra - 29%


To ensure that customers receive cold weather performance, Pollard uses psecially blended calcium or calcium/magnesium blends diluted to suitable strength at distribution points to meet seasonal customer requirements.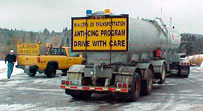 Products can be blended to offer a eutectic (Freeze Point) of -47C (-53 F) for trouble free handling and performance in cold climates.
Cold Low temperature Mastermelt


With a eutectic (Freezing Point) Below -31 C (-24 F) the Mastermelt blend offers snow and ice control at temperatures where straight sodium brine would be impossible to handle.
Anti-icing can be applied at speeds between 49 and 80 km/hr (25 to 50 mph) thereby avoiding traffic congestion during the application process.
As application rates and product solutions will vary with road conditions, surface temperatures, air temperatures and precipitation expected, you should contact Pollard Marketing to discuss specific needs.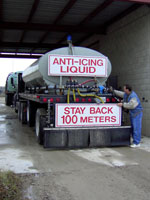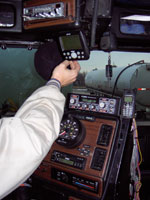 Pre-Wetting Salt and Abrasives
Liquid Calcium/Magnesium Choride, Mastermelt and Liquid Sodium Chloride are products that Pollard offers for "pre-wetting" salt or abrasives to yield better performance at temperatures.
Many Municipalities are realizing significant economic and environmental benefits, additional road safety and better salt effectiveness through the use of chloride based liquids. Such are applied as direct liquid application on paved surfaces or are used to pre-wet salt before or during its spreading on roads.
All Liquid Applications demand careful attention to road and weather conditions and application rates to get best road results without compromising safety.